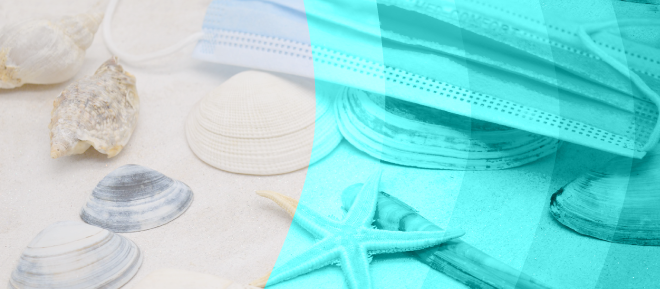 19 Aug

Summer holidays 2022: may the COVID be with you (hopefully not)

At the beginning of the summer of 2020, and after having spent weeks or even months all over Europe either confined to our homes or with severe restrictions on mobility, very few people were thinking about their summer holidays beyond nearby and familiar places. At that time, we still did not know if and when vaccines would arrive. There were border restrictions or closures, making travel beyond our own country quite complex. Even within each country, and sometimes within regions, there were a large number of restrictions: capacity limits in supermarkets, restaurants, shops, etc., physical distancing, use of masks, hydroalcoholic gels, etc. We all had fresh figures on cumulative incidence, deaths, people hospitalised, ICUs overcrowded. COVID-19, at that time, was very scary.

In 2021, with access to vaccines and, indeed, the security they provide, both as a perception and a reality, Europeans began to ask: Can we consider travelling during the pandemic? Many of us already saw it as more possible. We just had to be well informed about the precautions we would have to take when going to certain places. We already knew that one dose of the vaccine could prevent us from contracting COVID-19, or at least from becoming seriously ill. But there were still many restrictions and rules for travelling, even within the EU, and many more for travelling to EU external countries. Before travelling, we had to ask ourselves many questions: Can I travel with only one dose? Will two doses be compulsory? Will I need vaccination certificates? What will they ask me to enter a shop, a supermarket, or a plane? Will I need a QR code? How many people can I travel with or eat in a restaurant? etc., even: Will there be quotas for people to access beaches? Will quarantines be necessary? There were so many questions to answer that, in many cases, we were reluctant to decide to travel beyond, once again, places already known and close to us.

At the start of the summer of 2022, many of the restrictions are behind us. Lisbon looks like a Spanish city, English is once again the second official language on the Catalan and Andalusian coast, German is the second official language in Mallorca and the Canary Islands, and French and Italians are to be found in even the most remote parts of Ireland.

Threats such as the war in Ukraine, the inflationary spiral, the labour crisis, rising fuel and electricity prices, aviation strikes, heat waves, etc., do not seem sufficient reasons to stay at home, as COVID-19 was in previous years. Measures such as getting vaccinated, avoiding touching your eyes, nose and mouth, and washing your hands frequently with soap, all now seem anachronistic to us, and only a few of the preventive measures remain when travelling by various means of public transport.

At present, there are no longer any restrictions for travellers who are nationals of the Schengen area and associated countries to move within the Schengen area by land, air or sea. Only travellers arriving in the EU by air or sea, may be required to present an EU digital COVID certificate or the equivalent of vaccination or a negative certificate of a diagnostic test for active infection or a certificate of recovery from the disease.

But COVID-19 is still with us. The European Centre for Disease Prevention and Control (ECDC) warned in June 2022 that "transmission started to increase in the European Union/European Economic Area in general. In addition, in several countries, case rates among people over 60 years of age are increasing again, along with some indicators of severity", due to the BA.4 and BA.5 subvariants of Omicron, which "are likely to lead to an increase in COVID-19 cases".

Moreover, the Our World in Data project, noted that Portugal led the infection rate as of 22 June (1.511 cases per day per million inhabitants), followed by Germany (1.422), France (1.156), Italy (908), while Spain one day earlier counted 1.074 cases. On the other hand, the ECDC also states that countries are under-reporting or under-testing. Therefore, unlike at previous times in the pandemic, the lack of data and fewer media coverage of the pandemic is another element that may make the EU population's current perception of the pandemic less serious.

In the case of Spain, the Ministry of Health only provides data for people over 60 years old. On the 8th of August 2022, the 14-day incidence of infection per 100.000 inhabitants was 336.05, although lower than the 700 rates reached in previous weeks. Also, more than two and a half years into the pandemic, 222 deaths due to COVID were recorded in Spain in the first week of August 2022. People are still dying from the virus in Spain and EU countries. These numbers, which in 2020 and 2021 would have been considered serious and would have been widely reported, are not perceived as such at the moment. Perhaps it may also be influenced by the fact that healthcare capacity is not particularly saturated. According to data from the same report mentioned above, the occupancy rate of hospital beds due to COVID-19 is 5,16% and 4,60% in ICU.

Similarly in the rest of Europe, according to ECDC figures, during the last week of July 842.5 cases per 100.000 inhabitants per 14 days had been reported. Still, the infection rate had decreased by 22% compared to the previous week. Sorted by country, the data are heterogeneous, with some countries reporting increases in incidence, while others show a decreasing trend.

Finally, of 26 countries with data on hospital or ICU admissions/occupancy up to week 30, 13 reported an increasing trend in at least one of these indicators compared with the previous week. The 14-day COVID-19 death rate has been stable for one week (16,3 deaths per million population, compared with 17.1 deaths the previous week). Increasing trends were observed in 10 countries in the COVID-19 death rate.

Finally, despite the fact that as of 21 July 2022, 75,4% of EU/EEA inhabitants have received one dose of COVID vaccine, 72,8% two doses and 53% one more booster dose, with higher percentages in more eastern countries and lower percentages in more eastern countries, COVD is still with us.

But according to the World Tourism Barometer of the World Tourism Organization (UNWTO) of July 2022:
"International tourist arrivals (overnight visitors) have tripled (+221%) in January-May 2022 compared to 2021 but remained 54% below 2019 levels.
Nearly 250 million international trips were recorded worldwide up to May 2022. This compares to 77 million arrivals recorded in the same months of 2021.
Europe received more than four times more international arrivals than in the first five months of 2021 (+350%). Despite the strong rebound, arrivals remained 36% below 2019 levels."
And by the end of summer 2022, those numbers are expected to have increased even further. Therefore, with the disappearance of specific controls to detect European travellers with COVID, and the fluctuation and lack of data related to infection rates, it may be that COVID is on holiday among us without knowing it, although we all hope not.
Author: José Luis Postigo Sierra, University Rey Juan Carlos