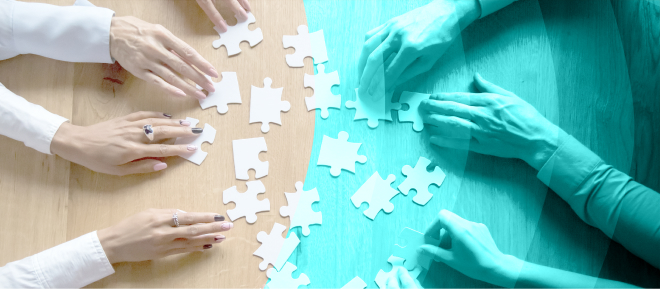 15 Apr

Tackling COVID-19: collaboration for better results

The realisation that a year has passed since the onset of the coronavirus pandemic in Europe prompted many to think about the shortcomings of pandemic management by European governments. Projects such as COVINFORM are a part of the European Commission initiative to ensure that the response to the ongoing crisis are improved and that we are better prepared for future public health crises. But COVINFORM is just one element of the research effort for better pandemic management – many similar projects aim to tackle the same question.

For COVINFORM, March has been dotted with meetings with projects pursuing similar objectives in their research. On 9 March 2021, the research team has joined a crisis management project cluster, along with other EU-funded H2020 projects which focus on health or pandemic related crisis management: STRATEGY, NO FEAR, PANDEM2, PERISCOPE, CO-VERSATILE and STAMINA. The goal of the cluster is to explore synergies, research opportunities and possible joint activities that will help the projects achieve the desired impact.

Alongside the crisis management cluster, COVINFORM has been meeting with other H2020 projects focusing on behavioural and social impacts of the pandemic, funded under the same European Commission call: PERISCOPE, RESPOND, RESISTIRE and SHARE-COVID. At the meetings, we planned a workshop that COVINFORM is going to host on 19 April 2021 to investigate shared research challenges.

The workshop will focus on the three key issues researched across all of the projects involved: governance, (unintended) socioeconomic consequences of the pandemic and understanding vulnerability. The goal is to learn about the data used and ethically collected by each project – collaboration will help researchers to connect the dots and organise the datasets efficiently going forward. This way, we can better define how to make our data comparable and how we can complement each other – it will help create shared impact in the future.

The April workshop will be divided into three panels:
The governance panel will focus on mapping policy responses to the pandemic across the EU.
The Socio-economic consequences panel will discuss the research related to expected and unintended consequences of the coronavirus crisis and mitigation measures introduced by the governments.
The third panel on vulnerability will look at research on the factors increasing vulnerability and negative impact by the COVID-19 crisis, and how such vulnerability is defined across different projects. It will particularly focus on gender and mental health.
Furthermore, we will discuss how the results of our respective projects can be used to make a lasting impact and ensure that the question of vulnerability will be addressed when managing public health crises in the future.
At COVINFORM, we know that cooperation is the key to successful research and innovation. In the future, more workshops will follow to make sure that all new project results, as well as lessons learned, will be discussed by cluster partners and sister projects. We are looking forward to all collaborations awaiting us in the future!
Author: Melania Parzonka